Canine Kinaesthetics™
The original , and still most comprehensive, system of holistic dog body care.
For Over twenty -five years, Canine Kinaesthtics™ has helped unravel training and behavioral puzzles, relieve discomfort, pain or restricted movement in dogs from around the world.  Canine Kinaesthietics™ is the only system of body work to incorporate a two-way behavioral and neurological dialogue as one of its key components .
Behavior
Is your dog disobedient?
Has your dog's behavior changed?
Do you feel as if you never quite connect to this dog?
Is your dog always busy, never settling?
Do you have a dog who is exhibiting aggressive tendencies?
Do you have a dog that doesn't seem to be able to learn?
Do you have a dog who is intolerant of change or stresses easily?
Canine Kinaesthetics™ has solutions for you.

Physical
Does your dog seem uncomfortable or cranky?
Does his movement look "not right"?
Do you have an aging dog you'd like to make more comfortable?
Would you like to enrich a young pup's physical and mental development?
Do you have a dog that seems to have six left feet or is prone to injury?
Would you like to help your dog's recovery from surgery, illness or trauma?
Kinaesthtics™ has tools to maximize health and well-being.
Sports/Working Dogs
Do you have a dog in sports (e.g. flyball, agility, herding, hunting trials, or sledding) or conformation competition?
Do you have a working police, search and rescue, or therapy dog?
Would you like to maximize training or conditioning results?
Would you like to minimize athletic wear and tear?
Would you like to prolong your dog's working life as much as possible?
Kinaesthtics™ founder Maryna Ozuna has over 25 years of experience in the field of sports therapy for animals.  She can help you with your dog whether you are in Phoenix, Scottsdale, Tucson, Chandler, Tempe, Mesa, Sierra Vista, Green Valley, Peoria, Glendale, or anywhere else in the United States.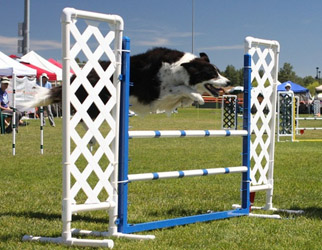 Nine year old border collie Heather, who has monthly Kinaesthetics sessions, with founder Maryna Ozuna, flying over the jumps in beautiful form, June, 2010.